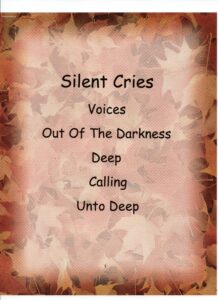 Click To Listen To The Audio From Pastor Deborah
This Is A Testimony Of The Great Agape Love Of God,
The Heavenly Father, The Most High God
For He Loved Mankind So Much,
That He Sent His Only Son, Christ Jesus – The Very Image and Likeness Of Him/His Thoughts, His Heart, His Wisdom, His Ideas,
And As His Spiritual King Of The Kingdom Of Heaven. 
Christ Jesus CAME/WAS SENT To REDEEM/SAVE/RESTORE
That Which Was Lost To His Father/The Creation Called Man!
  For THEY Were Spiritually Dead, Conceived In Sin And Shaped In Satan's Nature/Iniquity & Rebellion/Sin.  Fallen Creation- All Of Humanity,
The Love Of A Loving Father's Heart 
Lost To Him,
Without The Spiritual Connection To Him ( The Holy Spirit ),
Dead To His Agape Love And Mercy. 
Fallen From Righteousness And The Kingdom Of Heaven's Rulership On Earth. 
Fallen Into The Waiting Arms Of Another,
A New Father Who Took What Did Not Belong To Him
And Became The New Spiritual Father,
Satan, The Adversary Of God
Of Fallen Human Spirits, Souls And Their Physical Bodies ,
The Tri-Part Kingdom That Had Belonged
And Was Governed By The Government Of The Kingdom Of Heaven.
Spiritual Creation, Man
And
His 3 Part Nature,
His Kingdom To Rule
Lost And Now Cast Out Of The Precious Garden of Eden
 The Place On Earth That Was An Open Door To Heaven,
The Place Of The Fullness Of The Presence Of God,
The Father And His Agape Love, Joy And Peace
Into An Unknown Land
A Land Of Darkness/Ignorance 
No Spiritual Connection To The Kingdom Of Heaven
And
It's Agape Love, Joy & Peace
A Land/A Kingdom/The 3 Part System Of Man – SPIRIT, SOUL AND PHYSICAL BODY
Now Living In And Dominated By The Nature Of Sin/Rebellion And It's Sting Of The Fear Of Death
And
Tortured, Afflicted, Oppressed, Held In Slavery In All 3 Areas Of His Life,
Spirit, Soul and Physical Body. 
Unseen Chains And Fetters Tying Them To An Unseen
MATRIX OF CONTROL/SLAVERY!
THE LAND OF NOD!
ON THE EAST SIDE OF EDEN!
Becoming The Descendants Of An Ancient, Long Forgotten Ancestor,
CAIN!
Hear The Kingdom/Land That CAIN Would Live In
** Out Of The Garden Of Eden **
**  Banished From The Voice Of God For Killing His Brother,
Abel And Lying About It And Living Now In the Fear of Death **
"  A FUGITIVE And A VAGABOND/WANDERER/SPIRITUALLY HOMELESS Shall You Be In The Earth."
And CAIN Said Unto The Lord,
My Punishment
( For Killing My Brother Abel,
  In Jealousy And Anger Because I Felt Your Rejection Over My Sacrifice Of Grains And Wheat
When I Knew You Desired The Sacrifice Of Blood,
An Innocent Animal
 ( Which Would Be A Fore Runner Of The Coming True Sacrifice/The Lamb Of God – Christ Jesus)
Of Which My Father, Adam Taught Me About When He Sinned
And
You Killed An Innocent Animal To Cover Him Up Because His Glory/Innocence/Brightness/Honor/Dignity/The Kingdom/Rulership ( Authority & Dominion)
Shinning Out From The Center Of Himself
And Out Through His Body Of The Earth
WAS GONE!
That He Had In The Holy Spirit Gone/Lifted Off Due To His Sin Of Disobeying Your Command
Of Not To Eat Of The Tree Of The Knowledge Of Good And Evil,
 For If You Do,
Adam
YOU WILL SURLY DIE!
By Following His Helpmate, Woman Who Became My Mother, Eve
( The Mother Of All That Was Living, The Flesh! )
 And Then Trying To Hide This From You, Then Lying To You About It 
Is GREATER Than I Can Bear/Carry/Endure
Behold, You O'God HAVE DRIVEN ME OUT THIS DAY FROM THE FACE Of The Earth
( It Too, Will Not Be Pleasant, Fruitful, Friendly, Affectionate, Abundantly Producing For Me, My Friend And Supporter )
And From YOUR FACE SHALL I BE HID
( Because of My Sin, You Will Not Be Able To Look At Me With Your Face/The Place Of My Relationship With You And
The Place Where You Speak To Me From And I Can See Your Eyes Of Agape Love For Me
And Feel Your Tender Kisses Of Tenderness And Comfort 
No You HAVE HAD TO TURN YOUR FACE FROM ME Because of My Sin.
  If I In My Sinful State
 Looked Upon Your Face Of Righteousness/Of Holiness/Of Glory/Of The Light In Which You Are And Live In,
I WOULD BE FOREVER CONSUMED AND FOREVER DESTROYED.  
BUT MAYBE ONE DAY,
THIS WILL NOT BE THE RELATIONSHIP BETWEEN US,
BUT FOR NOW IT IS!
And I, CAIN SHALL BE A ( SPIRITUAL ) FUGITIVE
ALWAYS RUNNING/FLEEING/HIDING/LIVING IN FEAR OF YOU
And
FROM THE RIGHTEOUSNESS OF THE LAW OF SIN AND DEATH
Because I DO NOT Want To Suffer The Judgment Of My Actions
AGAINST YOU AND MY BROTHER, ABEL.
And
A ( SPIRITUAL ) VAGABOND/HOMELESS/VALUELESS/DIRTY AND WITHOUT HONOR/NOT APART OF A FAMILY/AN ORPHAN In The Earth
And IT
ALL THESE WORDS OF MY HEART/MY SPIRIT AND SOUL'S CONSEQUENCES/PUNISHMENTS
For Killing My Brother Abel And Hiding It
( I thought, Denying It And Not Taking The Blame For It)
So, Now That When Every One That Finds Me, They Shall Seek To Slay Me
For I Will Live In The Fear Of Death
All The Days Of My Life
For I Deserve Death For My Killing Of My Brother, Abel
And The Lord God Said Unto Cain,
"  Therefore ( Because Of Your Hearts Fear of Death as The Righteous Judgment For Your Murder Of Abel ), Whosoever SLAYS/KILLS Cain,
Vengeance Shall Be Taken On Him Sevenfold
( For Only I Have The Legal Right To Apply The Punishment Of Death Unto Cain, Not Any Other One!)
And The Lord Set A Mark Upon Cain,
To Tell All Others Who Find Him And Should Seek To Kill Him
Will Speak Of My Legal Right And No Others To Bring Death To Cain 
And Cain Went Out From The Spiritual Presence Of The Lord,
And Dwelt Spiritually
In The Spiritual Land Of Nod
On The East of Eden, The Garden of God's Presence
Genesis 4: 12-16  Authorized King James Version
Read The Stories, Hear The Silent Cries As The Heavenly Father Did And Still Does And As Pastor Deborah Did And Still Does
For Agape Love Went To Work, To Seek And Find That Which Was Lost To It
Hidden In The Kingdom Of Darkness
Living In An Unseen Matrix Of Control
Living In Great Fear Of Death
Living Without Agape Love And It's Fullness
LIVING, YET DEAD
SPIRIUALLY DEAD TO AGAPE LOVE, YET ALIVE TO DEATH
Their Silent Cries Were Heard, Help Was On It's Way!