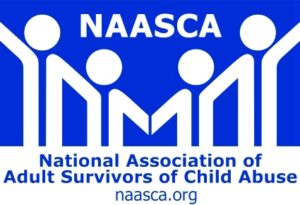 Pastor Deborah Has Partnered With The National Association of Adult Survivors of Child Abuse To Reach Out To Those Affected By Child Abuse And Those Who Minister To Them. She Appears As A Regular Co-Host On The Stop Child Abuse Now (SCAN) Talk  Radio Show On The 4th Tuesday Of Each Month At 8 p.m. ET,  And Is A Member Of NAASCA's Volunteer Call And Email List, Available 24/7 Hours A Day By Phone, Text, Email, Skype, Chat On Line, Letters And At The T& W Flea Market On Saturdays And Sundays 9:30 – 1:30 Central Standard Time To Minister To Those Needing Support.

Pastor Deborah has partnered with NAMI Pensacola as a Contributor to their monthly newsletter as an Spiritual Care Editor and as a representative of Lakeview Center, Inc., Spiritual Care Department.  Pastor Deborah is a Volunteer Pastor with the Spiritual Care Department of Lakeview Center in Pensacola and ministers in the Acute Stablization Unit, the Chronically Mentally Ill and as a Member of The Sexaul Assault Response Team as A Pastor.
Please check out NAMI Pensacola as they tirelessly work to bring awareness, prevention and support to those with a mental health illness and to the family members. Mental Health effects all and is an illness/disease that has no boundaries and is found in every nation. Pastor Deborah is connected around the world to all levels of Treatment Professionals to help bring Spiritual Care To the Treament Team in Helping People.
Visit NAMI Pensacola and Other NAMI's in other cities and states. It is an honor and wonderful privilege to be apart of the wonderful people who love others deeply that are affected by the devesting effects of a mental illness. Mental Illnesses affect all ages, all races, all sexes and genders. It does not discriminate, it effects all of humanity.
Pastor Deborah will work to provide Words of Encouragement and Support and Ministry From The Profession and Area Of Spiritual Care for all involved.
Pastor Deborah
Mental Health First Aid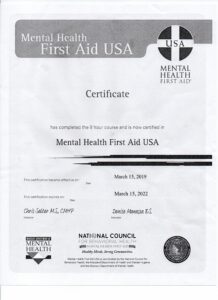 Presented By and Taught By
The Community Drug And Alcohol Commission
Trained To Make A Difference in the life of someone both adults and young persons with a mental health or substance use challenge by being trained to know what to do and what to say.
8 Hours of Training For Adults
8 Hours of Training For Youth
Crisis Intervention Team Training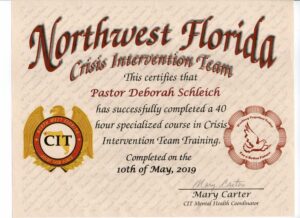 The Escambia County Sheriffs Department
Lakeview Community Mental Health Center
Baptist Behavioral Medicine 
Baptist Hospital Emergency Room
Escambia County Correctional Facilities
Escambia County Fire And Rescue
Pensacola Police Department
Santa Rosa County Sheriffs
Okaloosa County Sheriffs
https://www.flsheriffs.org/law-enforcement-programs/training/crisis-intervention-team
https://www.elakeviewcenter.org/
Trained In The Memphis Model For Crisis Intervention For Law Enforcement and Correctional Officers
Training Included 40 Hours and Tours of Facilities and Role Playing
Signs and Symptoms of Schizophrenia, Bipolar Disorder, Major Depression Disorder And Psychosis
Officer Safety Issues
Formation of a Crisis
Crisis Intervention
Rapport Building
Stages Of a Crisis
Active Listening and Communication
Anxiety Disorders
Related Behaviors and Useful Approaches For LEO
Treatment and Medications
Basic Interviewing Techniques
Officer Safety Principles
Cues Of Stress
Post Traumatic Stress Disorder
PTSD and Law Enforcement
Major Categories of Disorders of Antisocial Personality
Law Enforcement Approaches
Active Listening Role Playing
Hostage Crisis Negations Skills and Communication
Tour of Lakeview's Acute Stabilization Unit
Baptist Hospital's Behavioral/Psychiatric Hospital
Baptist Hospital Psych Emergency Room
Medical Issues and Mental Health Issues
Autism
Mental Status of Delirium
Signs and Causes Associated With Delirium
Baker Act for Mental Health Issues
Marchman Act For Substance Abuse Related Issues
Procedures At Different Facilites
Elder Issues
Alzheimer's and Dementia
The Elderly and Family Issues
Community Panel,  Fire and Safety and NAMI ( National Association Of Mental Illness)
 Substance Abuse & Cultural Diversity
Addiction's Effect on the community and the family
Behaviors and Effects related to different drug types
Treatment Options
Officer Safety
Stress Management
Symptoms of Stress
Unhealthy Coping Skills
Officer managing stress more effectively
Mental Illness and Adolescents
Co-occurring substance abuse
Coalition on the Homeless
CIT Model
Departmental Coordinatiors
Community Leaders And Partnerships
CIT Website and Monthly Team Meetings 
Graduation Ceremony
Florida Council Against Sexual Violence Advocacy Core Training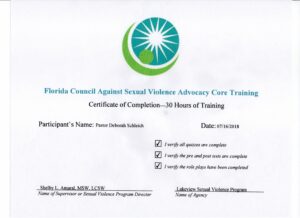 https://www.elakeviewcenter.org/BehavioralHealth/SpecialtyServices/victim-services